Digital Arabic Periodical Editions: presentation at Books in Motion
2016-05-07
1. The journal of al-Muqtabas
al-Muqtabas / المقتبس
"monthly" journal published by Muḥammad Kurd ʿAlī between 1906 and 1918/19 in Cairo and, from 1908 onwards, in Damascus.

9 volumes, 96 issues (at least 2 double issues), c. 7000 pages

Muḥammad Kurd ʿAlī (1876-1952): Ottoman bureaucrat, journalist, president of the Syrian Academy of Sciences, minister of education.
available at c. 30 libraries (North America, Europe, Middle East):

original prints (mostly incomplete)
some copies of a "gray" reprint
a number of microfiche copies from a single source
1.1 Importance of mundane texts / periodicals
They are at the core of various discourses

Modernity / -ism at the end of empire
Arabic renaissance
Arab nationalism
Islamic reform movement

They form large corpora with an equal distribution along a temporal axis (al-Muqtabas: 12 yrs, al-Manār: 43 yrs, al-Muqtaṭaf: 76 yrs)

linguistic analysis
historical semantics
data sets for social history
1.2 A two-fold problem
Preservation:

Active destruction of cultural artifacts: iconoclasm, neoliberalism
Neglect: fragile materiality

Access:

Absence / destruction of infrastructure / channels of knowledge transmission: lack of access to institutions, hardware, software, internet connections
widely-dispersed collections
technologies: absence of reliable OCR
technical skills: lack of basic scripting skills
The consequence is a focus on "high" culture and canonical texts
2. Suggested solution: unite facsimile and transcription
aims

validate the transcription against the facsimiles
improve the transcription with the help of the "crowd"
make everything citable for scholars, linkable for machines
provide the new edition with the broadest possible licence to facilitate access and re-use

principles

re-purpose available and established tools, technologies, and material
preference for open and simple formats and tools
3. Test case: digital Muqtabas
3. Test case: digital Muqtabas
3. Test case: digital Muqtabas
3. Test case: digital Muqtabas
Basis:

XML/TEI edition of all 96 issues (c. 7000 pages) of Muḥammad Kurd ʿAlī's Majallat al-Muqtabas
The text links to open-access digital facsimiles
licenced as CC BY-SA 4.0

Core feature:

social digital edition: gradually improve text and mark-up

Sugar on top:

Static web-view (doesn't require a permanent internet connection)
bibliographic metadata for all issues and articles (MODS, BibTeX)
access to bibliographic metadata through a public Zotero group
3. Test case: digital Muqtabas
3.1 Basis: Generate the TEI edition
3.1 Basis: Is this legal?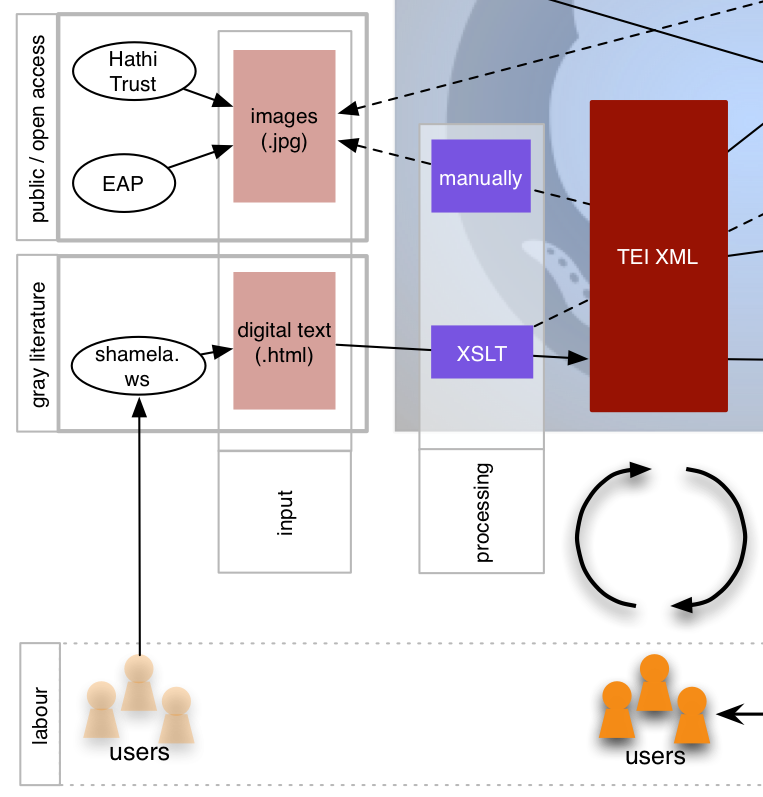 3.1 Basis: Is this legal?
Copyright depends on the jurisdiction of creators, distributors, etc.
text of al-Muqtabas

is in the public domain: transcription and imaging is legal.
the transcribers do not / cannot claim copyright: copying is legal

images of al-Muqtabas

digital files are protected by copyright: use is subject to licence, linking is legal
download and redistribution: almost certainly illegal

digital edition of al-Muqtabas
3.2 Core feature: Continuous improvement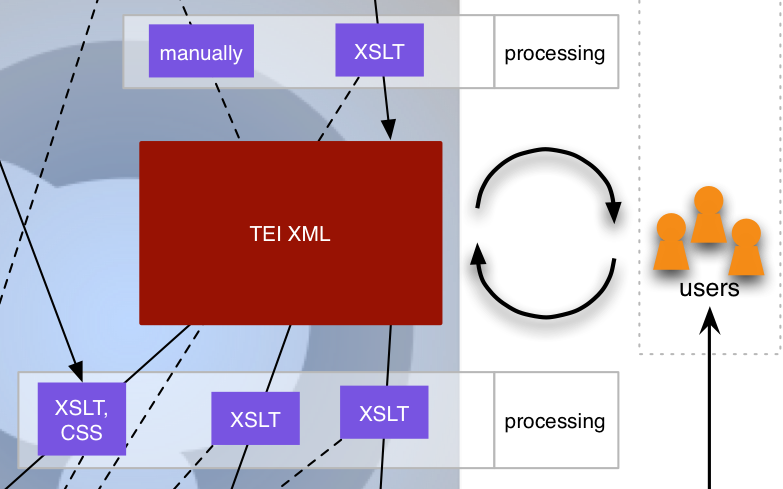 3.2 Core feature: Continuous improvement
Improvements depending on human labour (probably a "crowd")

correct the transcription
add structural mark-up
add semantic mark-up

Automatic improvements:

provide reliable bibliographic metadata based on the facsimile
mark-up of natural entities with link to external reference files (e.g. personal names, toponyms)
3.2 Core feature: how to contribute
Go to GitHub and register a free account
Edit the text (XML)
Send us a pull request
We will review and merge your changes
3.3 Sugar on top: web-view
Adaptation of TEI Boilerplate XSLT stylesheets
human-readable and static web-view (either rawgit or gh-pages)

generated on-the-fly by the user's browser using XSLT to transform the TEI XML files.
can be run without an internet connection and with local facsimiles.

parallel display of text and facsimile

simple changes to display different facsimiles

link to metadata on the article level (MODS, BibTeX)
the code is shared with a CC BY-SA 4.0 licence on GitHub
3.3 Sugar on top: web-view
3.3 Sugar on top: Zotero group
3.3 Sugar on top: Zotero group
3.4 Use cases: reviewed works
4. To do, ongoing work
Editorial decisions: TEI schema design

mark-up of some text features has not yet been decided

Editorial work:

mark-up of page breaks (1-2 h per issue)
correcting transcriptions
add non-Arabic words omitted by shamela.ws
add footnotes
correct publication dates for all issues.

Web-display:

needs some polishing
search functions beyond the Zotero group and individual issues (project can be searched on GitHub)
5. Experiences: simple, fast, sustainable
Simple technologies and relatively little coding needed: Initial set-up took less than four weeks of after-hour labour
Hosting with GitHub is free
Core (but simple) features cannot be automated:

all c.7000 page breaks must be manually tagged

Code can be re-purposed:

We set-up the sister project Digital Ḥaqāʾiq as a digital edition of ʿAbd al-Qādir al-Iskandarānī's monthly journal al-Ḥaqāʾiq (1910–12, Damascus) in a single day.
Summary
open scholarly digital editions of [Majallat] al-Muqtabas and al-Ḥaqāʾiq providing

TEI XML files (transcription and links to facsimiles)
plain text files
BibTeX files for every article
customised version of TEI Boilerplate (XSLT and CSS) with stable URLs for every element

within a framework (git and GitHub) that allows for

collaborative, open, version-controlled improvements of the edition
re-use of the text